How to get into kanban board
To get into KanbanBOX, you need a computer, a tablet or a smartphone with internet connection. Web address to login is https://app.kanbanbox.com. Remember to open access rights to this location in your company's firewall.
For mobile devices (smartphones and tablets, iOS and Android) download the app from App Store or Play Store, or directly from https://app.kanbanbox.com.
To login, you need to fill:
Email, user's business email.
Password, user's password set during signing up.
If you forgot the password, click on Did you forget your password?
Link with customer
Procedure if both, customer and supplier, belong to the network of KanbanBOX:
After signing up, tell customer the email used for registering to KanbanBOX.
Wait for an email with the link request by the customer.
Approve the link by clicking on the website address in the email.
Complete procedure for activate the link.
Reading kanban board
After logging, to get into kanban board in the top menu click on

Kanban boards >

Board as supplier.
In the board, each row shows a kanban loop, which means a kanban card flow with a single part number, supplier, customer, bin and quantity . The header (grey box) defines for each kanban loop:
| Field | Description |
| --- | --- |
| Part number | Item number for the customer. |
| Description | Part or item description. |
| Supplier | Supplier for the kanban card. |
| Customer | Specific customer for the kanban card. |
| Cards | Number of kanban cards defined in the kanban loop and eventually purchase batch or reorder point. |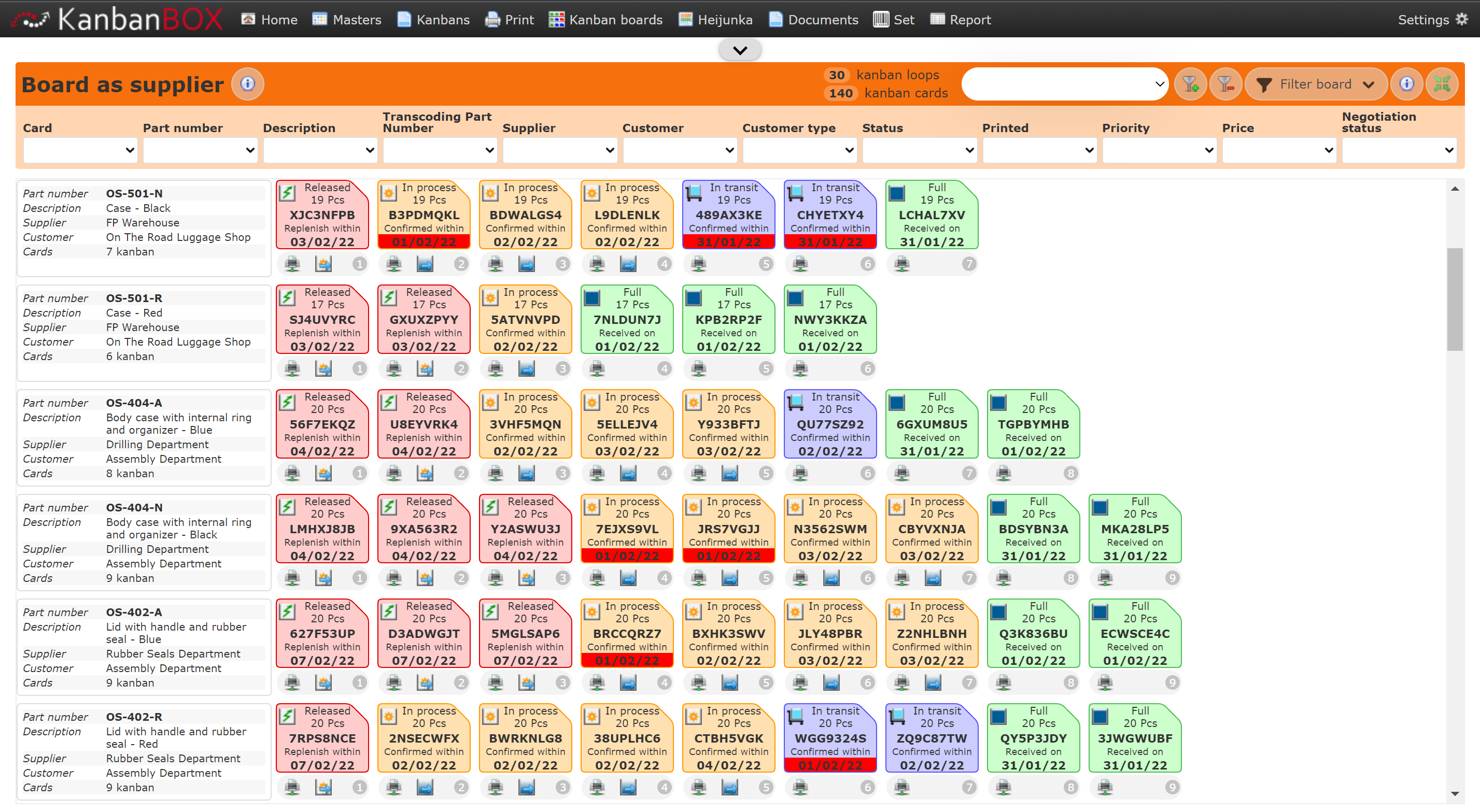 At the right of the heading you see a list of kanban cards, owned by a single kanban loop. Each kanban card shows some information:
Field
Description
Status
Current stage of the kanban card in the procurement process. Statuses available for a kanban card are:

1. Empty: bin is empty, you pull kanban card but don't release an order to supplier.

2. Batching: kanban card is waiting batch completion, before the release of the whole minimum batch.

3. Released: empty kanban card release a replacement order for the supplier.

4. In process: supplier confirms and takes charge the order.

5. Done: supplier has produced the goods.

6. In transit: Kanban card is on way to the customer.

7. Full: kanban card has been replenished and is available at the customer.

Quantity
Number of units (pieces, kilos, etc.) in order or available for that kanban card.
Date
Based upon kanban status, indicates:

1. Empty date of the kanban card.

2. Required date for replenishment of the kanban card.

3. Receiving date or full date of the kanban card.
You can search or filter a kanban loop or a kanban card by using filters at the top of the page.